The lunch box: what is it?
Lunch box translates to "meal box". However, the lunch box is not a box per se. Rather, they are multiple containers that are meant to carry your food. The number of containers may change depending on the boxes. They can be compartmentalized or not. They have the particularity of being completely hermetic. As a result, your meal will stay fresh until lunchtime.
The lunch box is an invention that comes to us from Japan. In the land of the rising sun, the lunch box is called "bento". Bento has been used there for decades. It has even become essential for the Japanese. So much so that the term bento no longer refers only to the container, but also to the contents of the box. If once the bento was literally just a simple box, today it is different. There are modern models that keep your meal hot for several hours.
Nowadays, the lunch box has become more popular all over the world.
Eating healthy at the office? It's possible with the lunch box
In the office, for lack of time or resources, we get into the habit of taking the easy way out. Fast food is very popular with office workers. It is practical, inexpensive and it stalls for the day. Frozen ready meals are also very popular. In other words, we don't always eat healthy at the office.
This may change with the lunch box. Since you prepare your own meal, you can choose what to put in your box. You can very well opt for a salad or steamed vegetables. Why not spinach pasta or rice with ground beef? With the lunch box you have perfect control over everything you eat. You can very easily continue to track your eating habits. You will no longer be forced to opt for solutions that are too greasy or stuffed with sugar.
As mentioned above, there are lunch box models that keep food warm. For example, you can opt for a lunch box with many compartments. In the lowest compartment, pour a very hot soup then place the rest of your meal on top. As the box is airtight, it does not let the heat go. In addition, the bottom box will take care of keeping the other compartments warm. As you have understood, the lunch box does not only carry cold meals.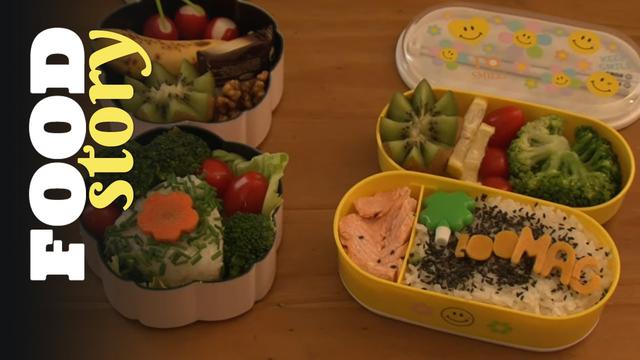 An economical solution
We don't think about it enough, but the lunch budget can easily go through the roof. Restaurant, fast food or frozen, at the end of the month, they can be quite expensive. In general, preparing your meals at home is cheaper than buying them in stores. This is why the lunch box, in addition to allowing you to eat healthy, saves you money. Cook as you usually do. Put one part for the office, and the other part for when you get home. By preparing your meal yourself, you choose your menu and your products yourself. Pick the ones that fit your budget and get cooking.
Our top: the design and practical lunch box
The Monbento Square bento box is the perfect lunch box for school or work. It has 2 floors. Each floor is airtight. The lid of each compartment has a silicone seal to close it more easily. Your meal will stay hot at all times.
We have selected this product for you for its sober and refined design. The box is made of polypropylene. It is a very robust and easily recyclable plastic material. The box is guaranteed BPA and BPS free.
The capacity of the compartments of the Square Box is quite large. These compartments are microwave, dishwasher and freezer safe. The total capacity of this bento is 1.7 litres. This allows you to bring back as much food as you want.
monbento - MB Square Gray Cotton Bento Box - Large Sandwich Box with 2 Compartments - Perfect Lunch Box for Office/Lunch/School
0
The robust lunch box
The style of the Umami lunch box is the same as the one you can find in Japan. The Umami lunch box comes with other accessories: 4 bamboo cutlery and a sauce pot. This Japanese bento box is completely airtight. It has two floors. The advantage is that they are microwave and dishwasher safe. We have selected this product for those who wish to learn about Japanese culture.
The lid of the lunch box is made of natural bamboo. This material is light and robust at the same time.
UMAMI Bento Lunch Box, Includes 4 Wooden Cutlery, 2 Leakproof Sauce Pots, Airtight Lunch Box with Compartment, Microwavable Lunchbox, Dishwasher-safe, Japanese Bento Box, Valentine's Day Gift
€29.99€50.00
The airtight and easy-to-clean lunch box
This lunch box is still inspired by Japanese bento boxes, but much more modern. It contains 3 cutlery and 1 sauce pot (screwable).
Everyone can enjoy the Umami lunch box. If you want to give a gift to a friend, give him this lunch box. We have particularly chosen this ideal bento box for both men and women. Choose the color of your lunch box according to the person for whom it is intended. Its dimensions (18.3 x 10.5 x 10.7 centimeters) allow it to be easily transported.
UMAMI Lunch Box, Ideal Gift for Men and Women, All Included: 3 Cutlery, 1 Sauce Pot (Screwable), Hermetic Japanese Bento Box 2 Tiers, Microwave, Dishwasher, Zero Waste, BPA Free
€29.99€50.00
The heated lunch box
Technological advances have answered this question: how do I keep my meal hot in my lunch box? It is precisely to respond to this problem that the CGGK Tech heated lunch box was created. It is equipped with an electric heating bowl. At lunchtime, use your dish warmer to eat hot. Food preservation is increased, since the materials used for its manufacture are of high quality, solid and healthy.
The heated lunch box contains 2 large compartments, one of 500ml and the other of 700ml. We offer you this lunch box because it is one of the most practical boxes. It is easily transportable thanks to the carrying handle.
CGGK TECH Airtight Heated Lunch Box 12V 220V Food Grade Stainless Steel Electric Heated Lunch Box for Hot Meal
€29.99
The Hermetic Mini Bag
Gloppie's Mini Airtight Bag is mini in name only. Indeed, it is no longer a lunch box, but a 3.5 L lunch bag. It is ideal for the office, work or school. It can also contain the whole snack for a picnic.
We selected this product because of its capabilities. Indeed, its intermediate cover fitted with a seal allows it to be closed hermetically. This lunch bag is very easy to clean. To do this, simply wipe it with a damp cloth or rinse the bag directly with water, dry it and then reuse it.
Gloppie Mini Insulated Lunch Bag 3.5L Snack Bag for Men Women Kids, Portable Lunch Bag Lunch Bag Office Work School
€16.99€17.99
"All the products featured in this article have been selected by our editors. When you purchase through our sales links, we may earn an affiliate commission. »