On average, a baby wears diapers for the first three years of life, or about 3,800 to 4,800 diapers in total. For several years, the composition of these protections has worried parents, thus pushing them to find other solutions. Here is the list of healthier alternatives to disposable diapers.
The composition of classic disposable diapers
Disposable diapers have become essential for young parents. However, the article of 60 Million consumers published in January 2017 seems very disturbing. Indeed, according to the association, a third of the models contain substances that are harmful, even toxic, to the health of babies.
An announcement that ANSES was quickly embellished with a more reassuring speech. According to the organization, there is no proven link between the substances contained in disposable diapers and the various health problems they can cause in children.
What do we find in the composition?
There is an impressive cocktail of toxic residues, including the highly controversial Glyphosate. But that's not all, disposable diapers can also contain:
– volatile organic compounds (VOC), responsible for proven respiratory problems and being responsible for irritation of mucous membranes
– perfumes (butylphenyl methyl propional and hydroxyisohexyl 3-cyclohexene carboxaldehyde)
– aromatic hydrocarbons
– dioxins
– furan
– latex
– paraben
– various endocrine disruptors
– phthalates
– chlorine
- Etc.
So certainly, the rates are low, but cannot be ignored. Especially since manufacturers do not play their cards on the table by clearly indicating the components of their disposable diapers. The only materials that are sometimes mentioned are plastic and cellulose.
ANSES also specifies that certain so-called "ecological" disposable diapers have nothing to envy to conventional diapers. Indeed, they would also contain some toxic residues, even if their quantity remains very low.
What measures have been put in place to address this?
The government reacted by banning the use of these products in disposable diapers, and this, as soon as possible, but without giving a deadline for doing so.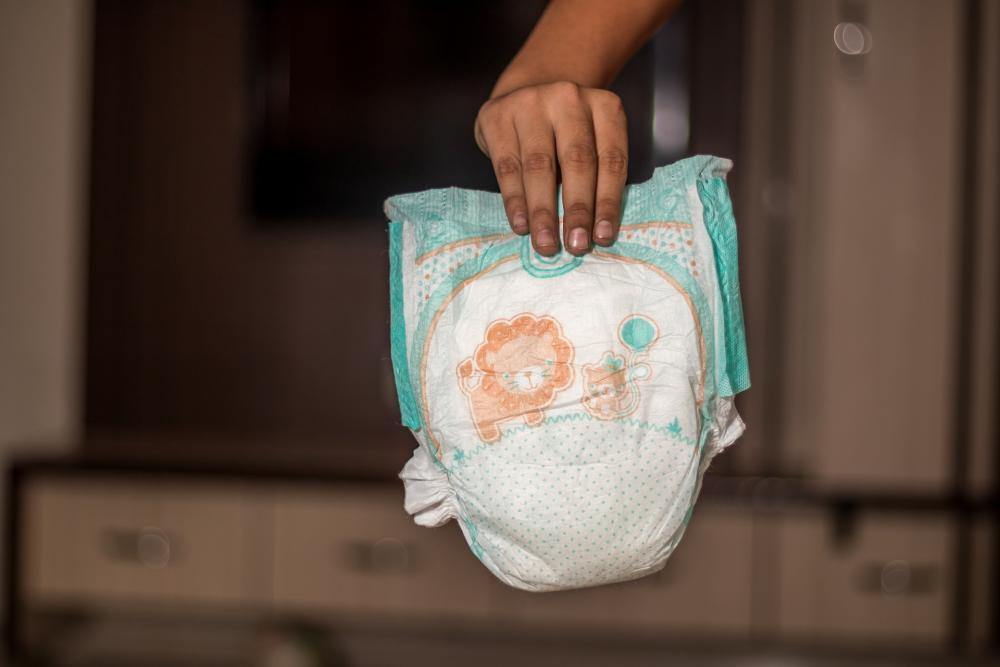 The DGCCRF has decided to strengthen controls on the production of disposable diapers and intends to challenge the EU for more specific regulations.
60 Millions de consommateurs welcomed this effort, but still called for an immediate directive to be put in place regarding the sanitation of disposable diaper components.
What alternatives to disposable diapers are there?
The first disposable diaper was born in 1956. It was the invention of an American engineer. Five years later, his model was rolled out to the new continent under the "Pampers" brand. It was not until 1978 that the brand crossed the Atlantic and was used by young French parents like the Peaudouce brand already present in France. Since then, brands have continued to compete by offering products that are always more efficient, more absorbent, more beautiful, more fragrant, etc. But at what cost… ?
Diapers are not only dangerous for babies… Indeed, they are also a significant scourge for the planet. One of the component materials of the diapers remains plastic, a material that we know very little about recycling. It takes between 200 and 500 for a single layer to crumble underground.
No less than 3.5 billion disposable diapers are used each year worldwide, representing some 351,000 tonnes of additional waste. Soil pollution is enormous.
Faced with these elements, some parents have not been reassured and are looking for better solutions both for their child and for the planet. Unfortunately, there aren't that many… Here is a list of healthier alternatives to disposable diapers for babies.
Cloth diapers
It is a more ecological option and at the same time healthier for babies' health. Most of the time, they are made of natural fabric (bamboo, hemp, cotton, flannel, etc.). Parents are assured of using healthy nappies without toxic residues.
They are very easy to use: a disposable wipe (and biodegradable in 6 months on average in nature) is slipped into the large washable diaper. When it is soiled, it is advisable to throw away the wipe and put the diaper in the washing machine.
On the price side, these are quite expensive, but being reusable a large number of times, the investment made remains largely profitable.
Natural baby hygiene
Some parents have embarked on an even more eco-friendly and cost-effective alternative to disposable diapers. This is the so-called natural hygiene method. This requires parents to learn to decipher their baby's body language, announcing the arrival of their needs. For some, it is a purse of the lips, a small cry, etc.
This technique allows the baby to become potty trained more quickly, but requires permanent parental involvement. On the other hand, by practicing this type of alternative, parents can be refused custody of their baby in a crèche or with a childminder.
Organic or environmentally friendly disposable diapers
For parents who do not want to be forced into washable diapers and even less to decipher the signs of their baby's dejection, there are however healthy disposable diapers. These are often organic or their composition is very gentle for baby's health.
By opting for organic diapers, which are often more expensive, the composition is almost guaranteed to be free of harmful substances. Here is a summary of the brands that are the most respectful of nature and children's buttocks:
– Lillydoo: the cellulose used comes from sustainable exploitation. Diapers are certified free of chlorine, fragrance, PEF, parabens, endocrine disruptors and latex.
- Little big Change: the nappies are fragrance, paraben, PEG and chlorine free
– Joone: diapers without phthalates, endocrine disruptors, parabens, chlorine and latex
– The little pants do not contain pesticides, parabens, perfumes and chlorine
– Moltex certifies its disposable diapers without latex, chlorine and 50% of the materials are biodegradable
– Naty offers diapers without plastic, latex, chlorine and perfume
The old-fashioned diaper
How did our grandmothers keep baby's little buttocks dry? They used a diaper… This is a square, triangle or rectangle of cotton that bends in a certain way, to collect the dirt from infants. This diaper was held in place by the famous safety pins! This technique is reminiscent of that of washable diapers.
There are many constraints to this mode of operation. First, you have to change baby often, because cotton does not absorb urine. Second, it requires a waterproof overcoat to prevent liquid from getting on clothes etc. Finally, it is impossible to count on a good night's sleep, because the wet baby will inevitably wake up to be changed. Something that is not automatic with absorbent diapers. However, babies are usually potty trained faster because they don't like to soak in their feces. This alternative to disposable diapers is certainly restrictive, but remains, with disposable diapers, the safest until today.
It is appropriate for each parent to test several methods and to opt for the one which they consider the simplest both for the health of their child and for their organization and their wallet.